Fuente:
http://jcolavito.tripod.com/lostcivilizations/id25.html
Información:
Inside the Necronomicon
Rumored to be the source of black magic, many have sought in vain for the fabeledNecronomicon of Abdul Alhazred. Here now the true story behind the most infamous book never written.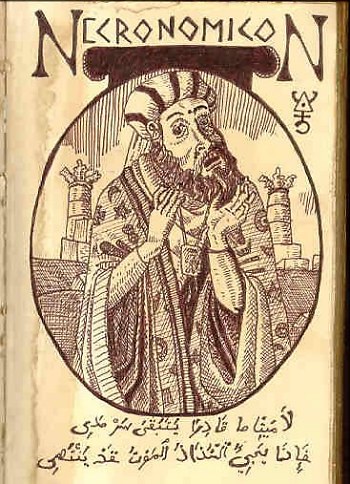 Of the story itself, its plot revolved around a pair of decadents who devoted their lives to the morbid to find something exciting in their moribund life. But vastly more important and more interesting was the reference book the characters consulted to identify a particular and grotesque amulet freshly extracted from a grave:
[W]e recognized it as the thing hinted of in the forbidden Necronomiconof the mad Arab Abdul Alhazred; the ghastly soul-symbol of the corpse-eating cult of inaccessible Leng, in Central Asia.
THE ORIGINS OF THE NECRONOMICON
It was of this place that Abdul Alhazred the mad poet dreamed on the night before he sang his unexplained couplet:




That is not dead which can eternal lie,

And with strange aeons even death may die.
He wondered at the vast conceit of those who had babbled of the malignant Ancient Ones, as if They could pause from their everlasting dreams to wreak a wrath upon mankind. As well, he thought, might a mammoth pause to visit frantic vengeance on an angleworm.



The Necronomicon? You can't be shown one!

While the libraries never will loan one!

But if it's so rare

And guarded with care

Why does every nut case seem to own one?
© 2002 Jason Colavito. All rights reserved.