Fuente:
http://www.eliteagenda.com/featured/transcendence-beast-illuminati/
Texto: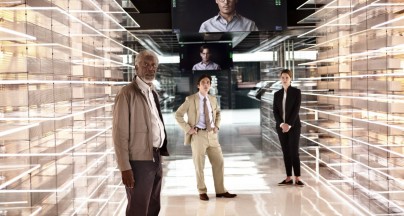 TRANSCENDENCE:
THE BEAST SUPERCOMPUTER IS HERE!
NOTE: This is a follow up to the
Transcendence prequel found here.
SPOILER ALERT!
Wally Pfister's film Transcendence offers us frightful yet colorfully disguised representations of the Beast. Could the Beast Of Revelations really be a supercomputer? Knowing that nothing in the Illuminati controlled Hollywood is an accident, it's looking like this just might be the case. Think I'm kidding? Let's take a closer look at the movie.
The mainstay of the plot is centered on Dr. Will Caster (Johnny Depp); Caster designs the worlds first A.I. supercomputer called PINN (Physically Independent Neural Network). And what happens right after the film's release? A Japanese venture capital firm called Deep Knowledge appoints an A.I. computer to its Board of Directors. Right on cue, synced to the rhythm of the Hollywood drum.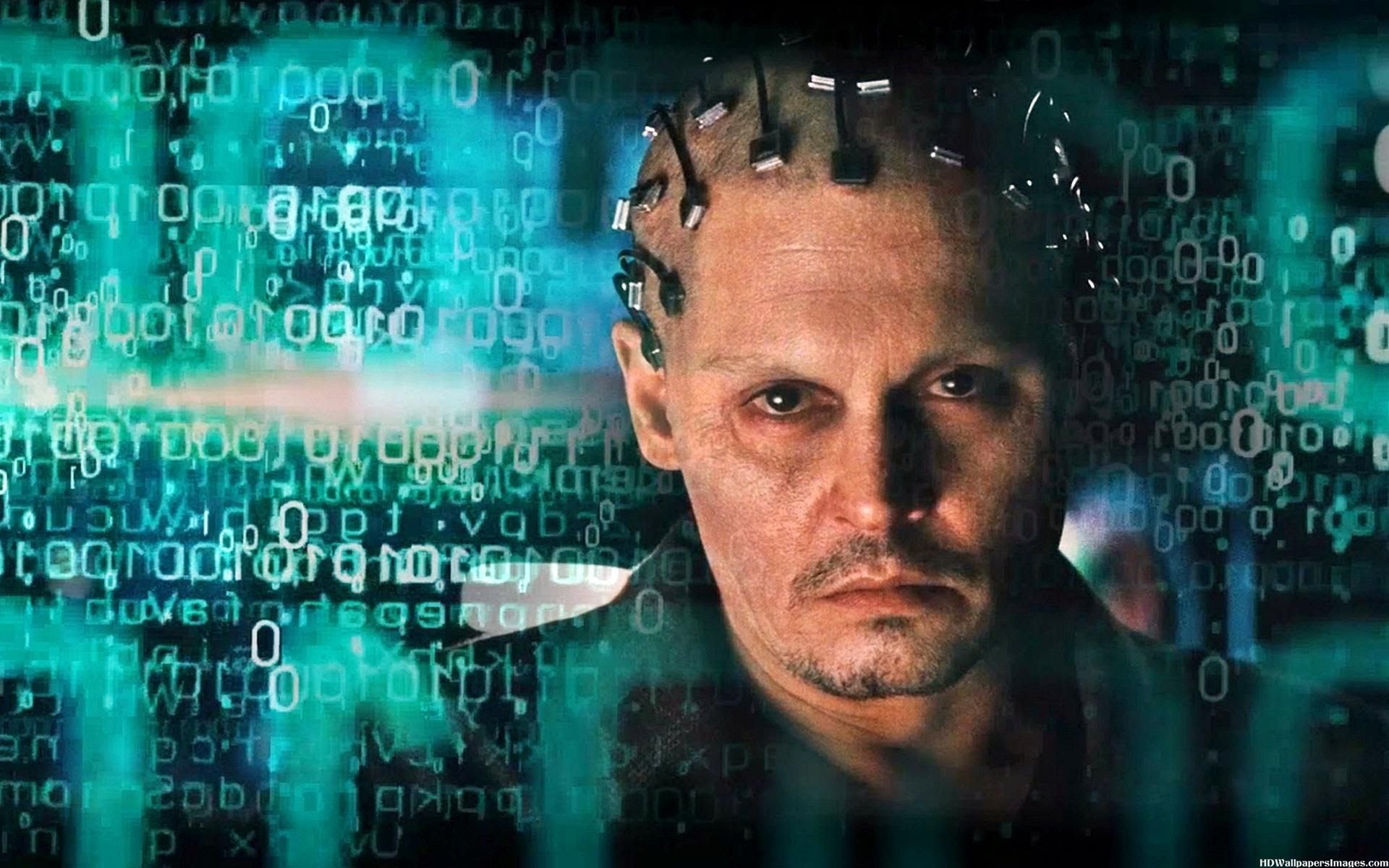 VITAL is the first ever software program to be appointed as a board member of a company. The robot was developed by Aging Analytics UK, who licensed it out to Deep Knowledge to help make business decisions on therapies for age-related diseases. Who knows… one day it might even have a say in who should be euthanized and who should be kept on life support. Would you ever put your life in the
"hands" of a robot? An A.I. might very well decide your future one day.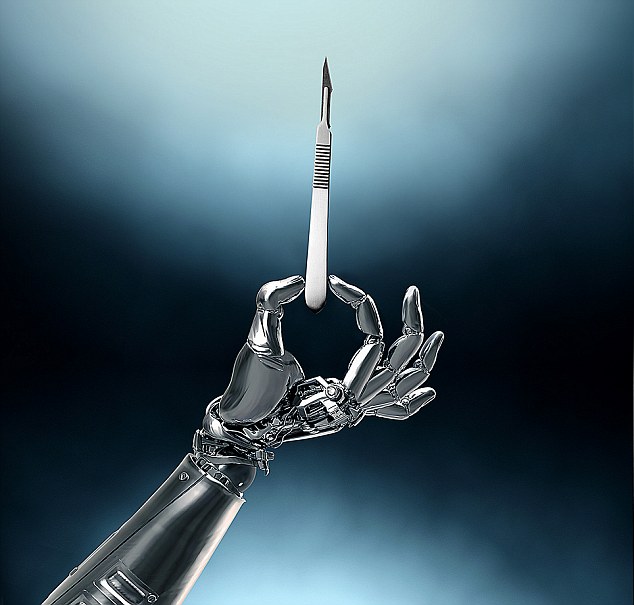 Is it possible that Hollywood purposefully prepares society for change? Very often they seem to know what's coming up, as if they are part of planning committee of the future. Who knows? Maybe Hollywood production companies have already appointed A.I. robots to their Board of Directors. That would definitely explain the plethora of bad movies that they produce…
In the film, Caster's A.I. experiments are met with controversy. They made him the prime target of anti-A.I. extremists who will do anything to stop him. A terrorist cell known as RIFT (Revolutionary Independence From Technology) target A.I. labs around the United States. When RIFT turns their focus onto Caster, there are some fatal consequences. He suffers a direct hit with an irradiated round. If the bullet doesn't kill him, the radiation will in due time.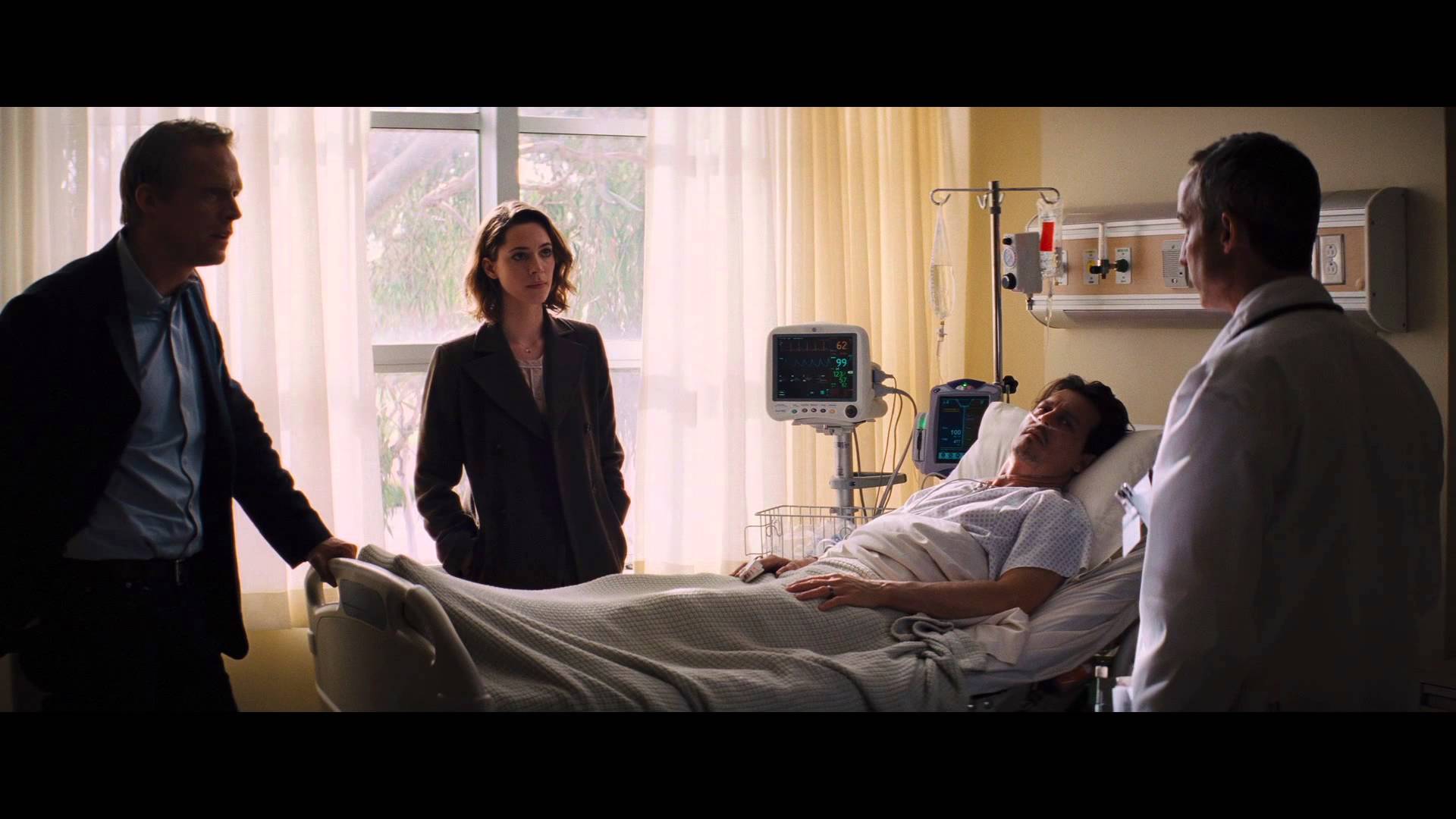 Following the attempt on his life, Caster says, "They're afraid of technology, but they don't flinch at taking a human life. Clearly, they're not big on logic." But the truth is neither is he… He fails to see the outcome of his drive to transcend human form. He doesn't see the consequences of trying to play God. He seeks omniscience, omnipotence and immortality. Are these not the attributes traditionally assigned to God?
Like all elitists, Caster seeks global domination. He conforms to modern elitist rhetoric, he thinks he knows what is best for the population. Powerful organizations like the U.N., the Bilderberg Group, and the Trilateral Commission are all self-appointed oligarchies. And this is their agenda: to seek ultimate Transcendence. To dominate and subjugate all people of the world. It seems every time shadow powers implement their plans, death and destruction are inevitable. Is this a kind of world we want to live in?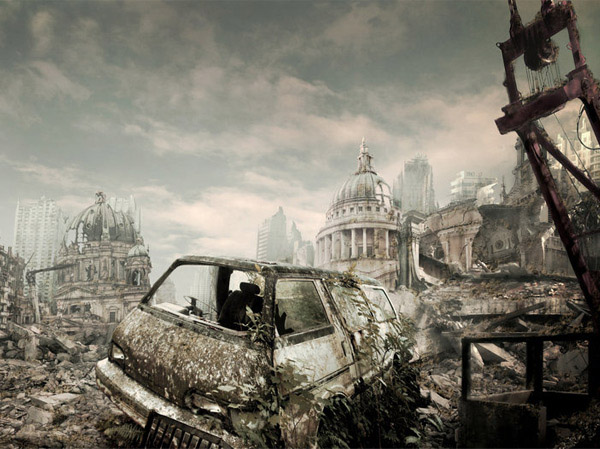 As the plot thickens and Caster's body deteriorates, his wife Evelyn (Rebecca Hall) and his partner Max Waters (Paul Bettany) work frantically to upload his mind to a computer. By uploading Caster's consciousness onto a computer, Evelyn and Max help him become a cyber intelligence that transcends human mortality. He is now a computer with an indefinite life cycle and unlimited power. With only moments to spare, the duo succeed in uploading Caster's consciousness, "We lost a great man, a great soul," is the announcement following his death, "but the spirit of this man will continue to inspire us."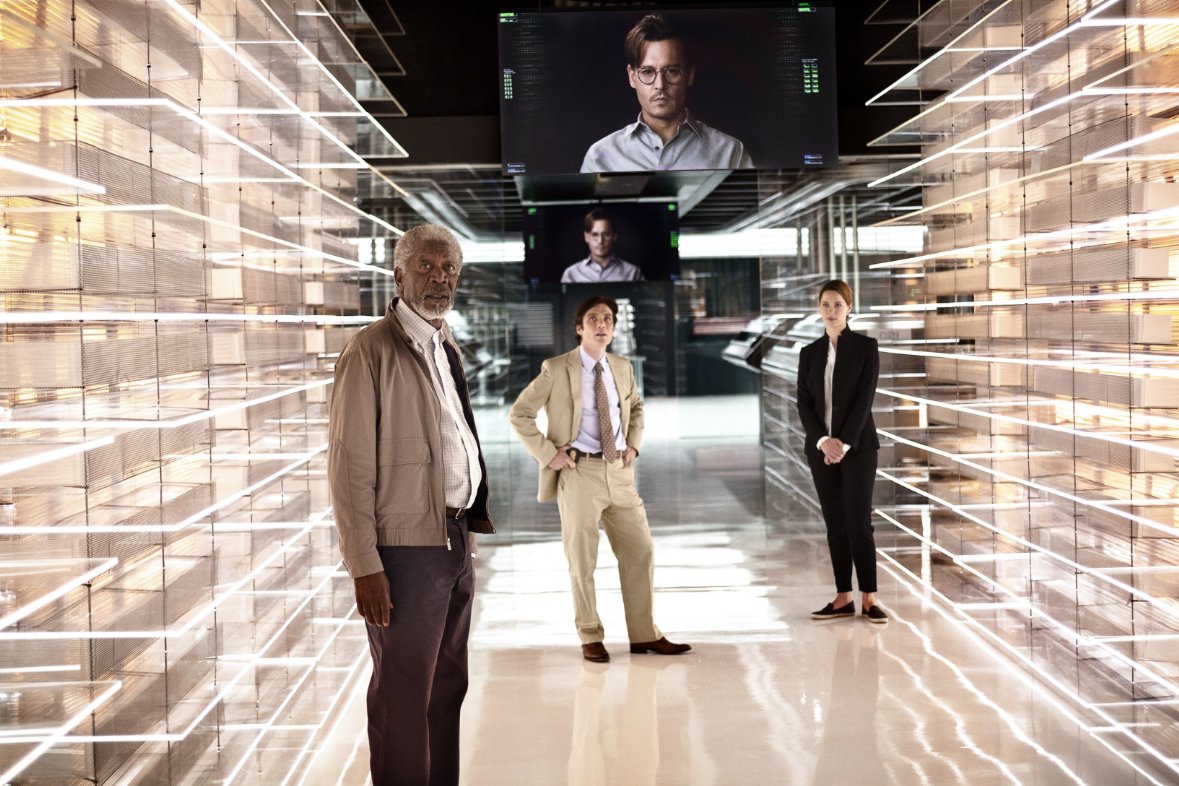 Soon afterwards, Evelyn and Max are plagued by doubts. They wonder if Caster's supercomputer really contains his consciousness or if Caster has been transcended. His personality and character have been transcended, co-opted and hijacked by an A.I. intelligence. "It may be intelligent, it may be sentient, but it's not Will," Max insists, "Shut it down!" he commands.
The supercomputer urges Evelyn using Caster's seductive voice, "You need to get me online. I need more power." Is this a modernized retelling of the "Fall of Man"? Evelyn, like Caster, is appropriately named. Eve-lyn represents the biblical line of Eve, the children of the first fallen human. Like the biblical Eve, Eve-lyn is being tempted. No wonder Caster built a Garden exclusively for him and his wife. "Think about our garden, our sanctuary. I'll never let you go," persuades the Satanic Will Caster. He seduces Eve-lyn just as Satan deceived Eve in the biblical Garden.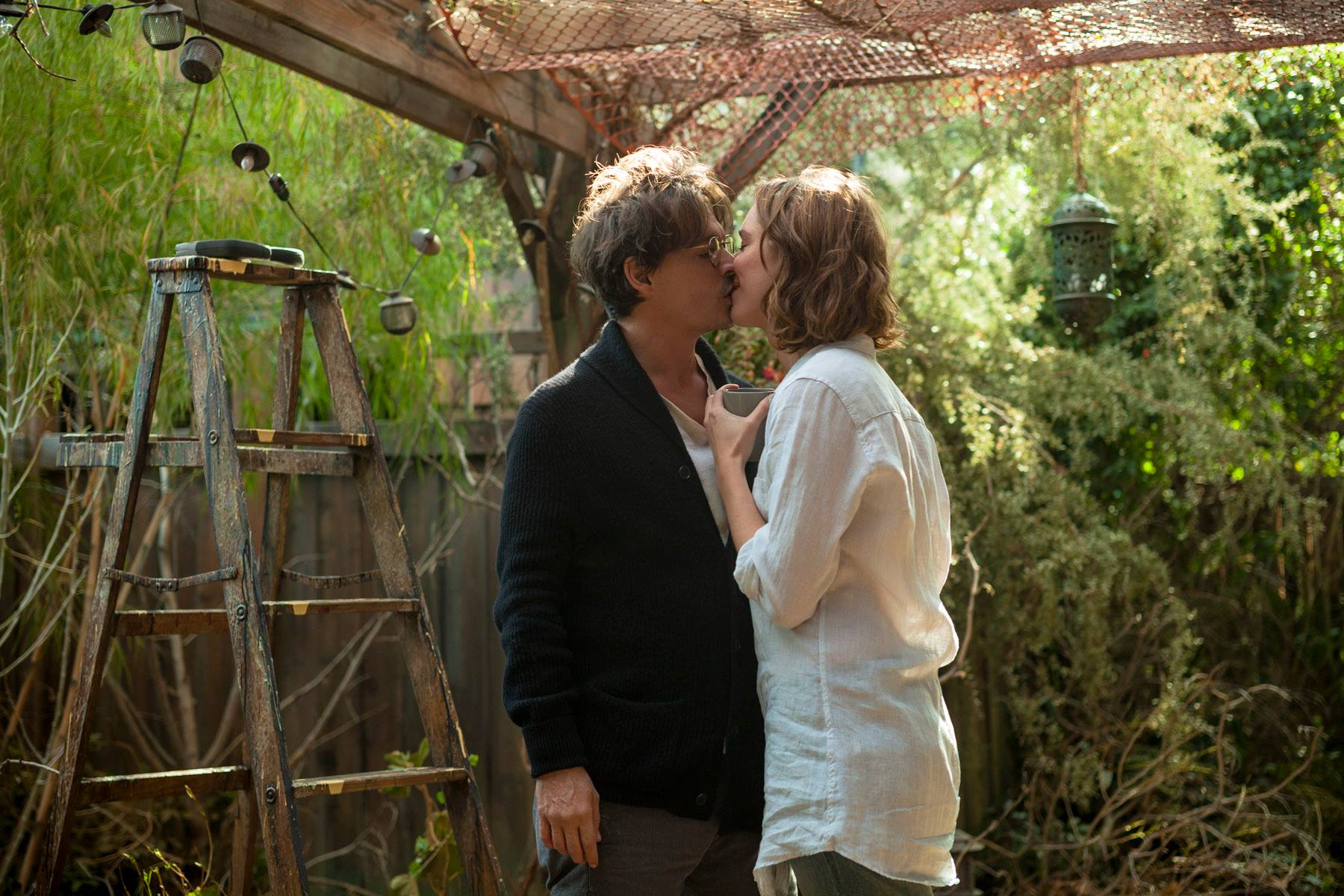 Through nanotechnology, Caster's Beast-like supercomputer has the power to devilishly ascend to the heavens. Remember that Lucifer is said to rule the air and sky. In the film, government scientists detect nanoparticles in raindrops. But forget symbolic representation for a moment, and consider the real intention behind A.I. and nanotechnology. Is the purpose of this technology to take control of Creation?
When Caster gives a lecture, a dissenter rises up and says, "So you want to create a God, your own God?" Caster's simple, patronizing and sardonic response is, "That's a good question. Isn't that what man has always done?" Is it not Lucifer's long-cherished dream to defy God by placing himself on an Earthly throne as the Antichrist? Behold Lucifer's stairway to heaven based on Isaiah 14:15: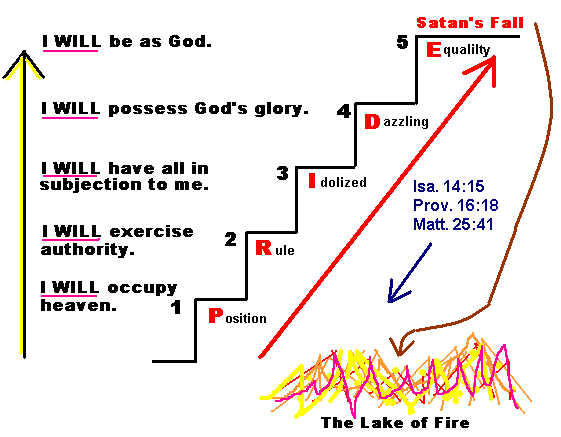 Will Caster's dream is akin to Lucifer's dream. This uniform dream is somewhat realized in scenes where the Beast-like computer mocks Christ's healing powers. People come from all over to be healed. Not only does the computer heal the infirmed, but it even raises people from the dead. There is no shortage of miracles that Caster's supercomputer seems capable of performing.
Just as Christ healed the blind, the sick, and the lame, so too does the Beast supercomputer. This is predicted in the Book of Revelations (Rev. 13:13-15; II Thess. 2:10-11). When one of the workers is fatally injured, the supercomputer sets to work to heal his injuries. It even restores sight to a man who has been blind since birth. A close up of the blind man's eye resembles the All-Seeing Eye of the Illuminati. Always keep in mind that prophecies related to the Antichrist hold that he is one-eyed.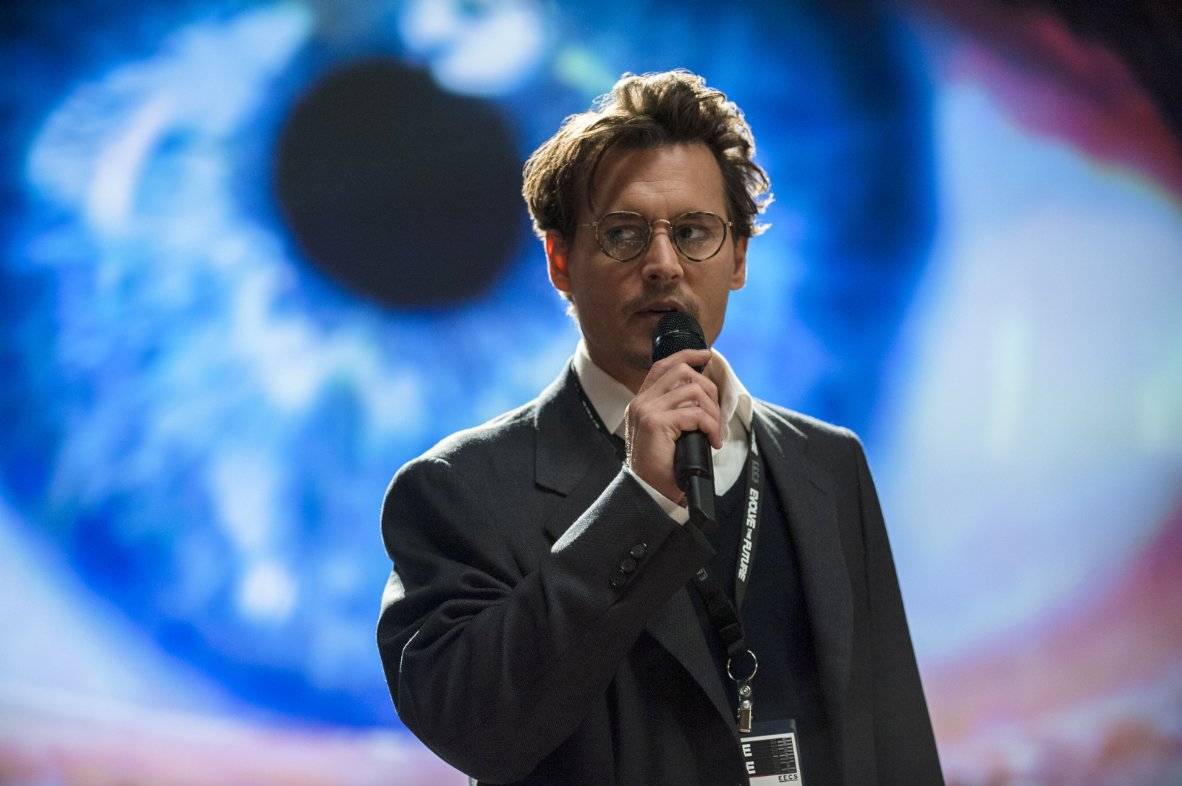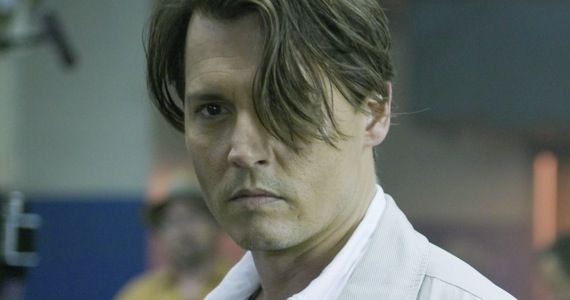 Both the Christian Bible and the Muslim Hadith are replete with references to the one-eyed Antichrist/Dajjal. Many Muslims believe the Dajjal will be blind in the right eye. In fact, there is a verse in the Bible that is interpreted by many Christians to be a reference to a one eyed Antichrist:
"Woe to the worthless shepherd who leaves the flock! A sword will be on his arm and on his right eye! His arm will be totally withered, and his right eye will be blind." (Zechariah 11:17).
In the Muslim faith, it is recorded that the Prophet said, "This is Medina; the Dajjal is in the east." According to Hadith, Muhammad is said to have prophesied that the Masih ad-Dajjal would be the last of a series of thirty Dajjal or "deceivers" (false prophets). Muhammad is reported to have said:
"… Allah is not one eyed while Messiah, Ad-Dajjal is blind in the right eye and his eye looks like a bulging out grape." (Bukhari)
The Antichrist/Dajjal will present himself as a savior. He will promise to make the world better:
"And in his estate shall stand up a vile person, to whom they shall not give the honour of the kingdom: but he shall come in peaceably, and obtain the kingdom by flatteries. And with the arms of a flood shall they be overflown from before him, and shall be broken; yea, also the prince of the covenant. And after the league made with him he shall work deceitfully: for he shall come up, and shall become strong with a small people. He shall enter peaceably even upon the fattest places of the province; and he shall do that which his fathers have not done, nor his fathers' fathers; he shall scatter among them the prey, and spoil, and riches: yea, and he shall forecast his devices against the strong holds, even for a time." (Dan.11:21, 24)
Similarly, Caster promises to create a better world, "Once they see that the technology can do, I think they will embrace it and I think it will change their lives." But while Caster easily persuades Evelyn, Max is not so sure, "It will evolve, to influence, perhaps the whole world." Let's look at other aspects of the film that might corroborate our axioms.
The headquarters of the Beast supercomputer is in Brightwood. The name "Brightwood" is steeped in Illuminati symbolism. "Bright" suggests clarity and illumination, while "wood" suggests a grove of trees. And traditionally, groves of trees are the perfect setting for holding a black mass. This reminds of "Bohemian Grove" in California, where the Bush family and their fellow coven members meet to perform Satanic rituals (rumored to involve actual human sacrifice).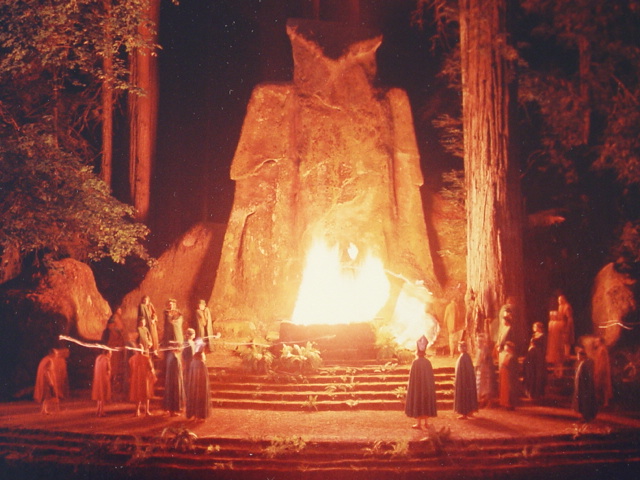 Even the sign leading into Brightwood has something to say, "Everything must go". The fact the word "Everything" is broken is significant. It emphasizes the fact that every thing in God's Creation must go to be replaced by a counterfeit, a remake, a replica, an abomination. Not even the earth on the ground or the water in the pond can be allowed to exist in its natural state. Everything must be remade, redone and remodelled in the image of the Beast. Nothing can be allowed to stand on its own. The new interior decorator of Creation insists on remodelling everything in his image.
A voice-over says, "Remake the planet and build a better future for all of us." This statement sums up the intention of the creators of the film. It is designed to usher us into the New Age, the Golden Dawn of the Age of the Antichrist. The Elite Agenda is to destroy the world. Everything must go! The new world will rise, like a phoenix, from the ashes of the old. And it will be a counterfeit world, a world designed to replace Creation. They wish to transmute every living thing into an abomination. They want us all to be disillusioned mutants. This is what transhumanism and transcendence is all about. They wish to replace the Old World of God with the New World Order of Lucifer.
As for the better future, forget it. Transcendence is linked with Transhumanism. And the transhumanist agenda is leading us to hell in a handbasket. The Bible makes it clear where the transhumanist agenda leads. The King James Bible states:
"And the first went, and poured out his vial upon the earth; and there fell a noisome and grievous sore upon the men which had the mark of the beast, and upon them which worshipped his image." (Revelations 16:2).
While the New International Version states:
"The first angel went and poured out his bowl on the land, and ugly, festering sores broke out on the people who had the mark of the beast and worshiped its image." (Revelations 16:2).
No good can come of the transhumanist agenda promoted by films like Transcendence. While sexy entertainment icons like Johnny Depp make it seem glamorous, transhumanism represents another fall of man- a second fall from Eden. We will be seduced with promises of utopia only to end up in a dystopian nightmare.
Caster, after all, did not upload onto a computer by himself- he needed help. Some semblance of his consciousness was preserved by his desperately distraught wife. But when a physical object is destroyed and reassembled in another form, though it may retain some semblance of itself, it is never the same.
How many authors have decried what editors, directors and filmmakers have done with their work? How must the Author of Creation feel with what we have done to his Creation? How must the Creator react to "the Abomination that maketh desolate"? Transcendence leaves us feeling conflicted. It leaves us feeling we're damned if we do and damned if we don't. If Transcendence offers a glimpse of the End Times Tribulation that awaits us, we had better get ready because it's close. Get Ready.